As mentioned earlier, I was going to make some wreaths using the grapevines from Mutters garten. Actually wreaths have a negative connotation in Singapore because the Chinese used to send wreaths to funerals (they have now evolved to floral arrangements). But I wanted to make some like the ones I bought from Salzburg and Munich. So first thing I did when I got home was to soak the vines in water to make them more pliable. I toyed with the idea of stripping the bark off first, but decided it was too difficult and I would do that after I had dried the wreath.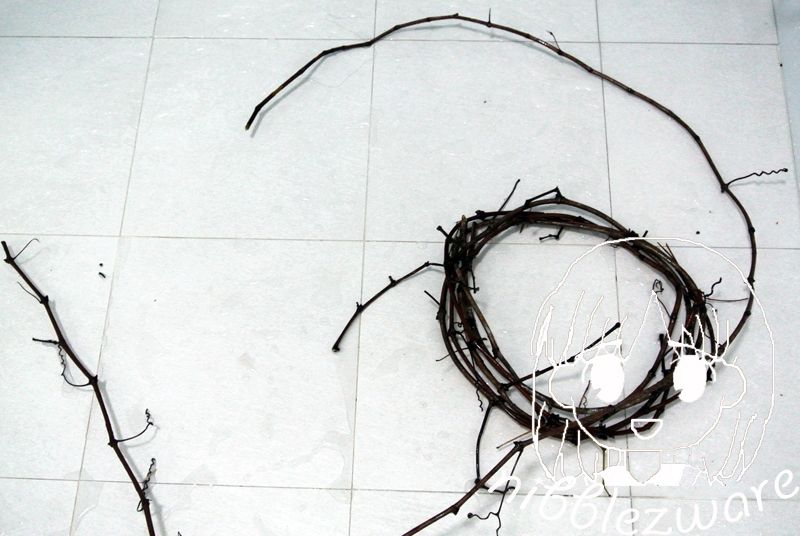 Unwinding Mutter's wreath
Mutter had wound some of the vines so I had to unwind them to smaller, tighter shapes. I did not have enough vines to make big wreaths, and I didn't want to waste a lot of flowers on a bigger wreath. So in the end, I ended up with 4 wreaths. Should have wound two of them together to make a wider one.
Rewound wreaths
So I hung them up to dry for at least a month. I bought a glue gun from the neighborhood hardware shop (they sold them cheaper than Art Friends), and when Bär went to Bangkok recently, he asked me what did I want as a souvenir. I said I wanted cheap flowers.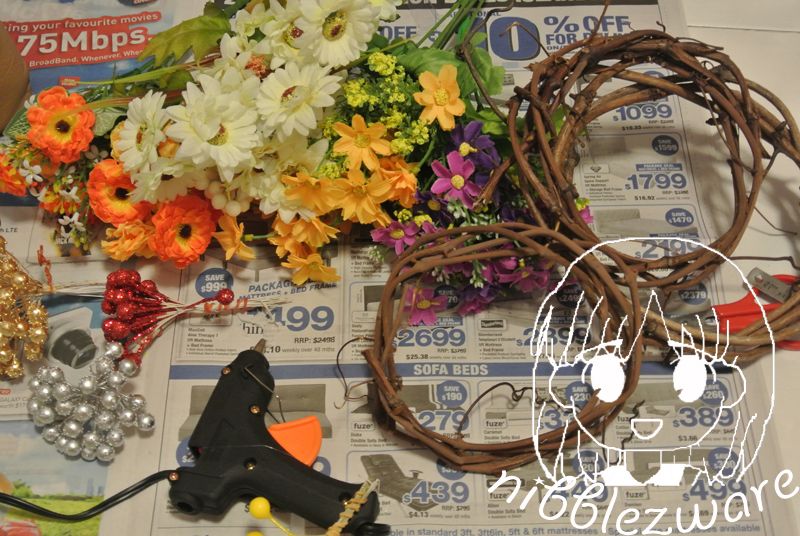 Bär's flowers
The lovely guy got me some flowers (too bad they were not very good quality), and some balls to go on the wreath (I thought this was an excellent idea). I sat down last Saturday to try out my new glue gun. After practising on shoe repair, I started to try sticking the flowers on the wreath. I had scrapped off the dried bark off it beforehand.
I wound white ribbon around the wreath and snipped off the flowers before sticking them onto the wreath
Because I had been repairing my shoe, I decided to sit crosslegged on the floor while putting everything on spread newspapers, instead of working at a table. I was almost halfway done, when I accidentally dripped some hot glue on my ankle. The heat was so intense, that I grabbed the tip of the gun with my left hand. WTF seriously. And then I scalded my thumb and fingers really badly. The joke was that the pain on my ankle wasn't that bad, and I wasn't even scalded there. But now I scalded my fingers so badly that boils appeared!!!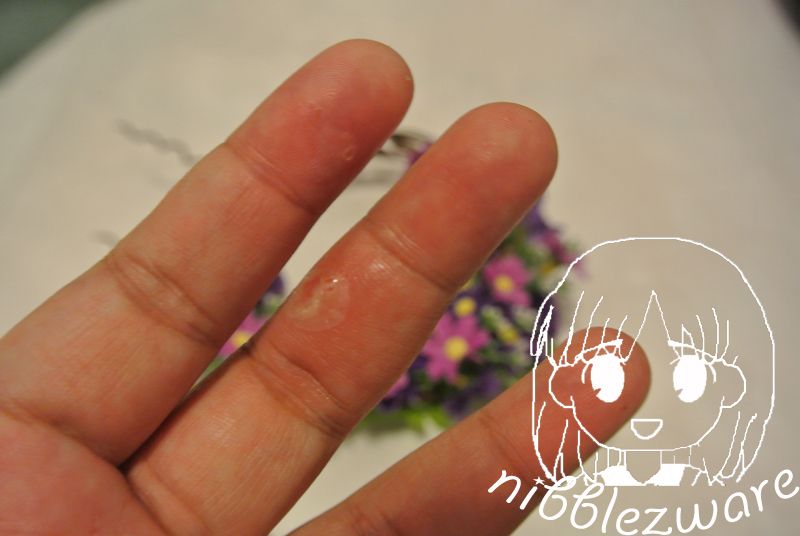 OUCH!
I started crying because the boils became very hot. I decided to burst the boils because the heat inside the boil was killing me. Don't do that, it will make the wound worse and cause infection. It's been seven days since, and my left middle finger is still very badly injured, and looks AWFUL.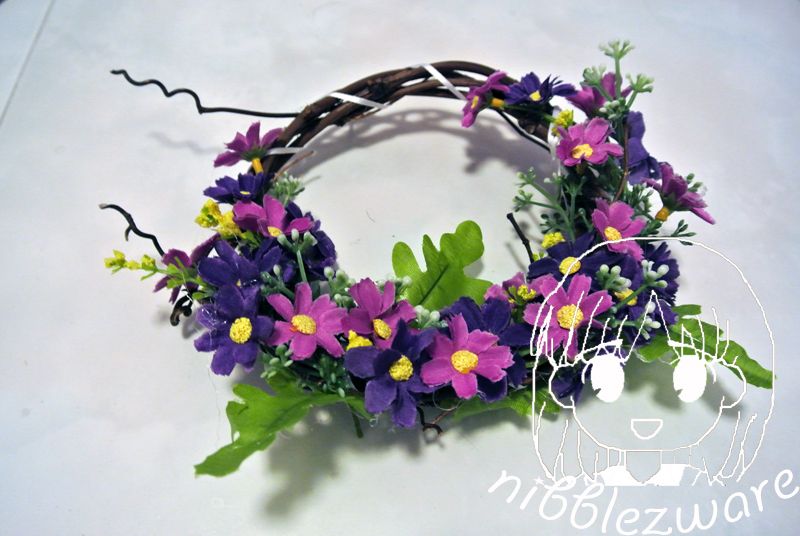 Completed wreath
It was nearly impossible to complete doing the wreath. I had been planning to make 4, in the end, I winced through finishing the one I was working on. The pain was so not worth the effort. Sigh...

Materials needed:
Glue gun
Newspapers
Ribbon (to wind around the wreath)
Dried/ Fake flowers