I was walking to the nursery to buy soil for my intended radish growing experiment. As I was cutting through some blocks of flats, I noticed a man standing outside a first floor unit of one of the blocks. I was thinking whether to continue on or walk up to chat with him.
Since I am very KPO by nature, you can guess what I did. While chatting, he asked me what kind of plants I plant. I told him that I favor roses. He said, did you notice that I have a pot of roses? It was behind the support pillar.
He said got it a year ago from the rubbish collection point, which was within LOS from his house (I wondered inwardly about his apartment's value). While I examining it, he unexpectedly offered it to me. He said he didn't like roses. Sacre Bleu!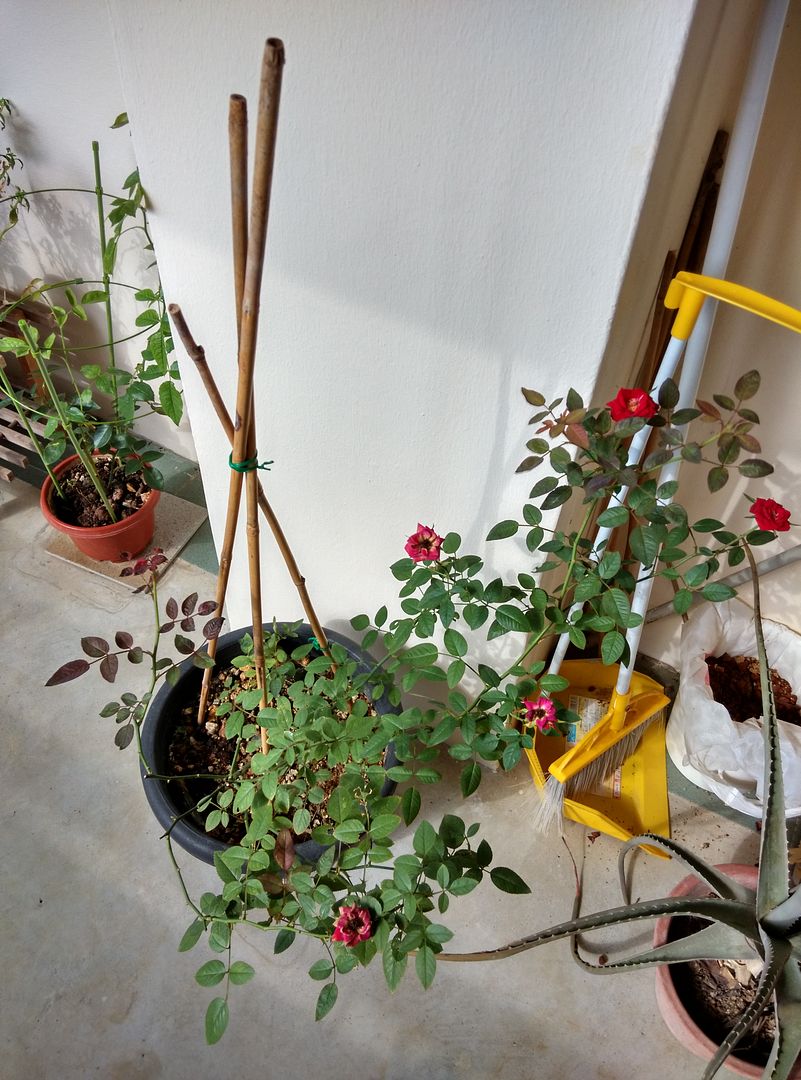 I added the wigwam support, the wind that arrives with the December monsoon is no joke. My plants are going bald!
I was super delighted, especially since it was the color and variety that I had been trying to propagate (updated: ok since then I realized that the color is closer to that of the blackish red rose I have, not the electric pink one I have been trying to propagate). Attempted three times (once the CU even gave me a pot with balling roses, it died after my enthusiastic repotting in a bid to get rid of the balling problem), twice with no success. I had some cuttings root on my third attempt but I am not sure if they will succeed once I replant them in soil.
I asked him if he wanted anything in return (it's only polite right?). Unexpectedly he said cactus. Now I remembered that my mother and her friends excavated some neglected aloes and cacti from their allotment when they took over it and abandoned them in a sad corner of the allotment. So that was why I ended up taking a very long bus ride to her allotment to liberate one of the long-suffering prickly prisoners. They were very ungrateful and poked me along the way, renewing my hatred for cacti. I decided that it was quite ugly and broke off two ears and cleaned them before passing them to the man.