I love to eat edamame so when Mutters friend grew them in their garten, I asked for some pods to start them off in my own garden.
I was given a few pods which I ate up... and had to ask for two more. As instructed, I sunned them really hard, before growing them. Only two succeeded, tiny twisty twiney things that climbed up my balcony and pole (in the L-shape). One died later, after I forgot to water for days. That was very regrettable, because it started having flowers already, so it actually needed more water. I was set back for quite a while, because the one outside the apartment did not get as much sunlight so took a much longer time to climb and grow.
And for a while, Mutter and I were debating over whether the pods were actually edamame or another plant which blue flowers were used for coloring in Peranakan cakes. Thankfully I was proven right, because finally the other plant started sprouting tiny pretty purple flowers.
Then I became worried and wondered if I needed to pollinate the damn things.
I am pleased to announce... I don't have to. This week I was very excited to discover that the edamame pods have finally started growing.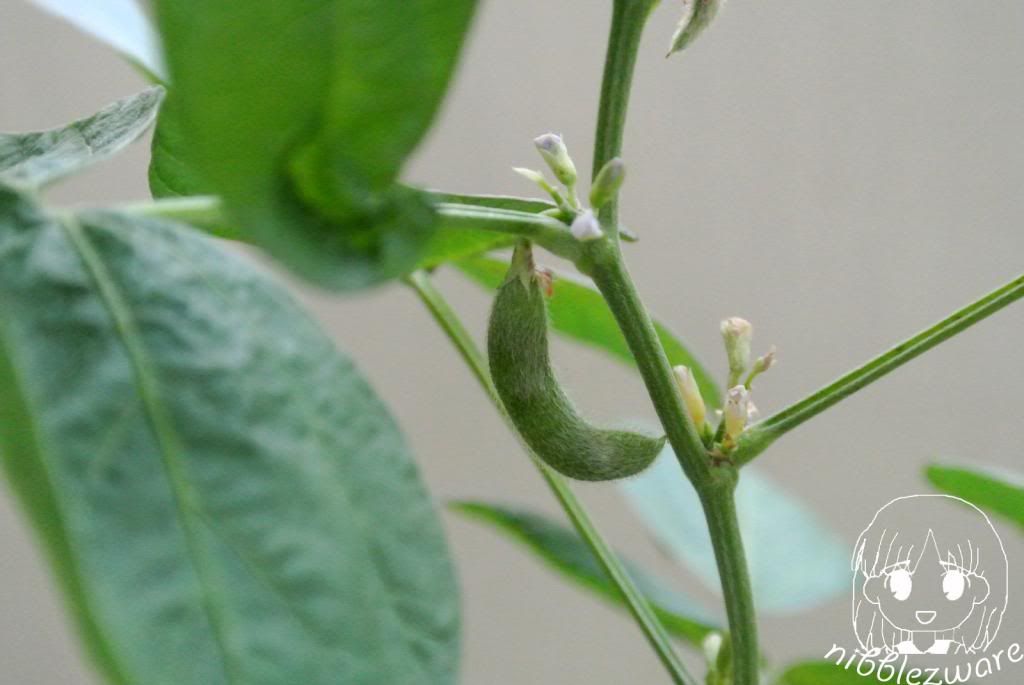 Now it's a question of when they become big enough to be harvested. I shall try very hard to restrain myself from eating them. Instead, I will use this harvest for seeds. Too bad edamame is an annual plant. Sigh. I think I will have to wait like bloody months again... before I can get a bumper crop from my new growth.