I soaked the white stems of the spring onions I bought exactly three weeks back, after cutting off the green parts for making kimchi.
So three weeks on, the spring onions have sprouted new green stalks like mad. However due to lack of nutrients, the
stalks are spindly and thin
. I decided to harvest them all at one go for spring onion pajeon and to garnish my samgyetang.
Here are my spring onions in full glory on my cutting board.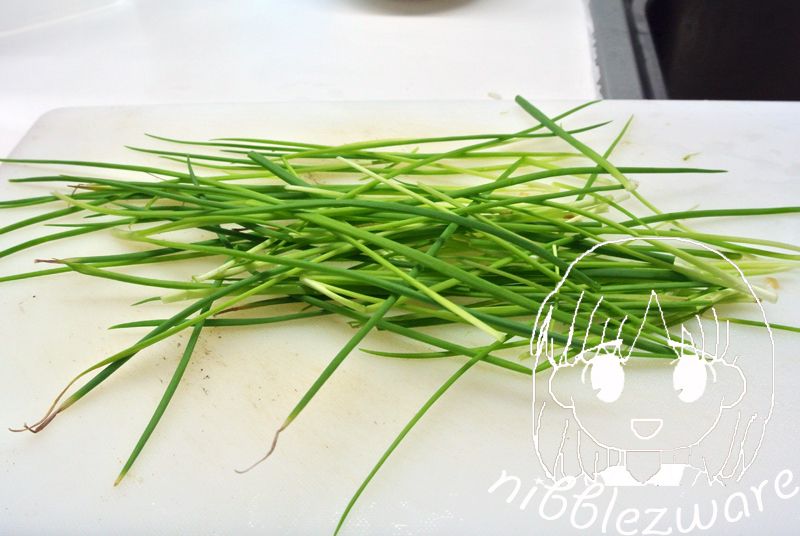 Looks like a sickly cousin to the original harvest. But what do you expect with just water and sunlight?
You don't see the white stems in this foto because I am restarting them again. This time, I am soaking half of them in water, the other half in water mixed with liquid fertilizer. I had to throw one root out though, because it was starting to rot. I was telling Mr Bear that in the original source for the article, it did say that we could only get like 3-4 regrowths for each white stem.
I thought it was because the white stems would rot from too much water. But Mr Bear deduced that it was because eventually the spring onions will run out of nutrients because they are essentially grown in water now. Which is why this experiment...
Read on for the
spring onion pajeon
story.
B1 thinks that the spring onions are my most successful plants (I guess so, after I managed to not grow a single potato despite the healthy looking plant, but that was a mistake which I have learnt from). He said unlike my tomatoes, which have grown a miserable 4 (after that awful exodus-like blossom drop), this was at least sufficient for our needs. He said I should give up growing my edible garden because it was much easier to buy our food and the struggles with the white flies are totally not worth the trouble. *roll eyes*