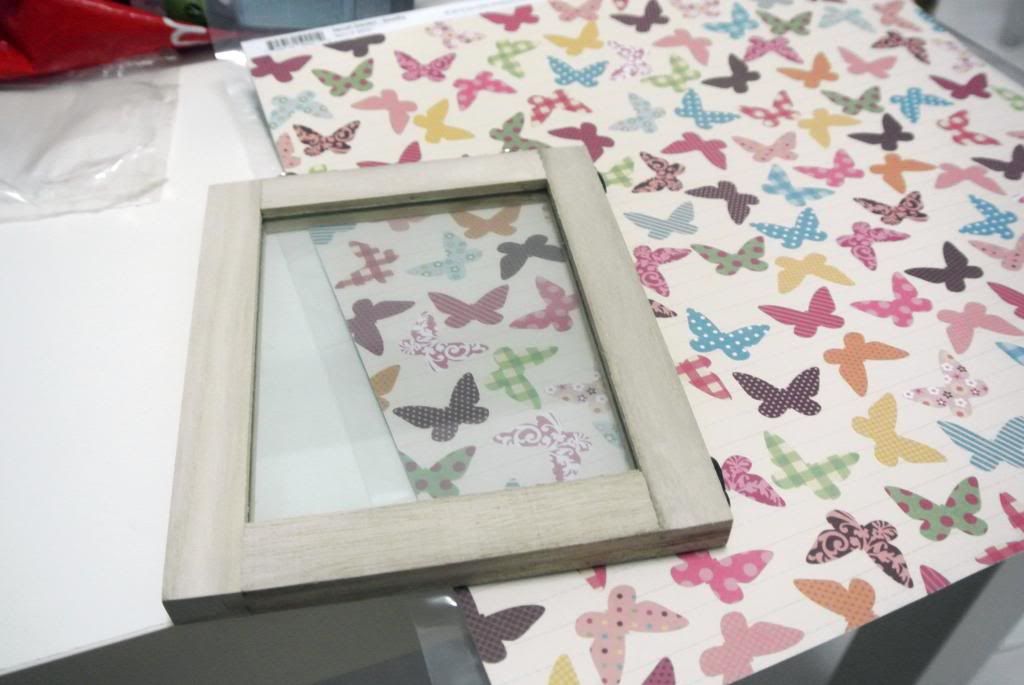 I was trilled to see the glass frame selling at Art Friends for S$3 while out with C and Y so naturally I bought it. It was a massive deal because the frame comes in two pieces of glass so you can suspend your artwork in between. The first I bought had a scratch on the glass which I couldn't see because it was covered in plastic. I only realized it when I was tearing the plastic open while at the restaurant with the two ladies.
Oh Shit. I ran back to the shop where they agreed to let me change the frame. So good, what should I do with it? I thought about buying stickers of butterflies of various sizes (I was thinking of the same color for consistency). However I couldn't find any, which was a pity because the alternative was to draw and cut my own butterflies, which is bad because I do not have a steady hand for cutting.
So in the end, I went to Paper Market and bought a piece of scrapbook paper with pretty butterflies. Good thing was that a blue background with white spots was printed on the other side of this paper, so I could also resort to drawing my own butterflies if the cutouts don't look nice.
Cutting the butterflies was a pain, but I thought they didn't turn out too bad, so in the end, I stuck them between the glass panes. Schön?